How Raised Side Doors Help the Disabled Driver
In order for your vehicle to have any real value, people need to be able to get in and out of it easily and safely. When that involves the use of a wheelchair, you have several different options in that regard.   You can use ramps or lifts, for instance.   You also have the choice between facilitating side or rear entry.
If you opt for side entry, you may find yourself facing another challenge.   In many cases, the doors on the side of the van will not afford sufficient room for safe and comfortable entering and exiting of the vehicle.
That is because manufacturers create vans based on their assessment of standard use.   The average passenger will be on foot, not in a wheelchair and will not need the extra height.   The doors are made accordingly.
If you or a regular passenger will be using a wheelchair, you will need to make adjustments to the van.   One of those conversions may involve raising the side doors to provide extra space.
Some people go the extra mile and have the overall height of the van increased via a raised roof.   While that is a workable solution in many cases, raising the side doors may provide sufficient improvement at a much lower overall cost.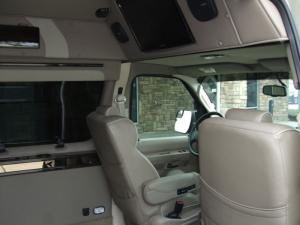 In some cases, raising the side doors is a matter of better using existing space.   Often, van manufacturers leave several inches between the top of the door and the actual top of the van.   It may be possible to produce adequate clearance simply by making better use of the existing space.  In other cases, the conversion may be slightly more complicated and can involve more significant changes to the structure of the vehicle.
Regardless of the exact methodology used, raising the doors is a complicated matter best left in professional hands.   Those doing the body work need to be mindful of how the changes will affect the vehicle's structural integrity.   If you are going to modify your van by raising the side doors, be sure to rely upon a qualified expert to do the work.
When installed correctly, raised side doors can make entering and exiting your wheelchair van much easier.   It can add a new dimension of accessibility to the van while simultaneously improving safety and comfort.   If you are struggling with a side-entry arrangement, you may want to consider the advantages of raised side doors.