Helping the Disabled Driver with Rear Lift Gates
You want your wheelchair van to be reliable.   You need it to be safe.   It's great if it's comfortable.   There's one other factor that you can't overlook–you need to be able to easily get in and out of the van.
There are many ways to do to that.   You can use one of dozens of different styles of ramps.   Alternatively, you can choose from the many different kinds of lifts on the market.   Rear lift gates are one of the most popular options for those who put a premium on durability and safety.
A rear lift gate, as the name suggests, is meant to mount to the back of the van, allowing for entrance and exit through the rear doors.   These lifts tend to be bigger, heavy and sturdier than some other options.   They consist of a textured flat platform that can be raised or lowered, as necessary, to facilitate accessibility.
These rear-of-the-van options have their roots in the industrial world.   For decades, shippers have been using lifts based on the same principle to load and unload heavy cargo from trucks.   Today, that extensive experience and use informs the construction of ultra-reliable rear wheelchair lifts.
Most rear left gates work without manual effort.   There's no need to turn a crank or to make it go up and down.   Instead, these lifts utilize electric motors or hydraulics to get the job done.   The user operates them with a simple handheld controller.
Braun makes some of the best rear lifts.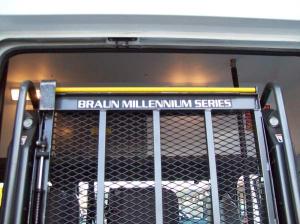 This well-known conversion company has built a reputation for some of the most durable and powerful wheelchair lifts on the market.   Their hydraulically powered rear lift gates boast a great combination of simplicity, reliability and raw power.
If you're interested in finding a way in and out of your van that isn't going to let you down, take a long look at rear lift gate options.   They're more expensive than ramps and lighter-weight options, but they do pack a punch.   If you're happy with entering and exiting via the rear of your wheelchair van, they can be a spectacular choice.