About Full-Size Wheelchair Vans
Full-size wheelchair vans provide the most room and flexibility for the passengers and driver. The biggest benefit to investing in a full size vehicle is the added size. You and your family can comfortably drive across town or across the country without feeling cramped on each other. In addition, the larger size also makes transporting one or more wheelchairs easier to do. For those considering the investment of a wheelchair van, learn a bit more about full-size wheelchair vans before overlooking them.
Wheelchair Minivans or Full-Size Vans?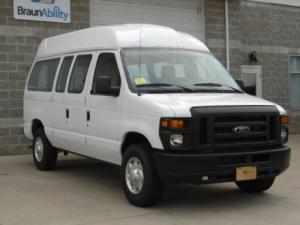 The two main options you have when purchasing a van for transport are full-size vans or wheelchair minivans. As you can tell from the name, the major difference here is size.
Minivans are smaller and best suited for those who need minimal room or will need to use the van for limited transportation. For example, those who will need to transport just one wheelchair may find a minivan to be an acceptable option. On the other hand, families with more than one, or a larger sized wheelchair will benefit from the additional room of a full-sized van.
Of course, it is important to note that the size of the vehicle does not determine how useful it is, nor does it determine the cost in total. While full-size wheelchair vans, including conversion vans, are more expensive, they often compensate for this in a more powerful engine and larger transport room.
Purchasing Full-Sized Wheelchair Vans
If you have decided to go with a full-sized wheelchair van, you will be happy to know that there are several manufacturers now offering these products. Consider the following makes and models that may work for your particular needs.
Ford: Ford offers a number of van options (including minivans) that have adaptive equipment in them. One option to consider is the E150. For a larger engine, you should upgrade to the E250. Ford also offers the Tuscany and the Econoline.
Chevrolet: For those interested in Chevrolet, consider the 1500 Express wheelchair van. The vehicle may have updates to include any type of adaptive equipment needed.
GMC: GMC offers the Savanna wheelchair full-size wheelchair van.
Scion: The XB Scion is an affordable full-size wheelchair van. It offers rear entry wheelchair conversion, meaning that the rear of the van is wheelchair accessible.
There are other makes and models on the market as well. Consider investing in a Honda, Pontiac, Dodge or Chrysler vehicle as well.
Is a Full Sized Wheelchair Van Right for You?
Purchasing a full-sized wheelchair van may be a good decision for those who want room and power behind their vehicle. If you want to be comfortable on the road, then the added space that these vans offer will be appreciated. Remember that the vans may be customized with features such as:
Raised roofs
Lower floors
Tied downs
Removable seats
Lifts
Wheelchair ramps
This provides the individual with the most flexibility in use out there. They do cost a bit more, comparatively, but they provide more for the investment.