From Ordinary Van to Wheelchair Accessbile Van
There are many differences between an ordinary van and a wheelchair van. While there are often exterior differences between the two, our analysis will concentrate on the interior differences.
Driver Aids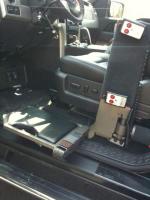 Those who have physical handicaps that make driving difficult have more options than ever before to maintain or regain their independence.   They can drive themselves instead of relying on others to drive them where they want to go.
There are various steering options available for those who may have difficulty using both hands or who may need the controls within easy reach. Furthermore, for those who may be unable to use one or both feet, there are options for accelerating and braking using only the hands.
Drivers who have difficulty getting in and out of a vehicle may want to implement one of a variety of seating aids that can make getting in and out of the vehicle much easier.
There are seats that swivel as well as seats that turn out so that the driver can easily go from the driver's seat to a wheelchair if necessary. One may also invest in transfer seats that make going from a wheelchair to the driver's seat much easier.
Differences in the Floor
The floor is typically lowered on a wheelchair van. This is often in conjunction with the van being fitted for a ramp and it is also to accommodate the extra height required by a wheelchair.
Some people will purchase wheelchair vans simply to accommodate a wheelchair in the van and others will need make the van drivable by a wheelchair user.
When the person is actually sitting in the wheelchair inside the van, there will need to be tie-downs adhered to the floor of the van. When the person will be actually driving the van, the wheelchair is usually stowed either behind the driver's chair or in the back of the van. In fact, there are robotic arms that can be installed that will actually retrieve the wheelchair for the driver so that even the most physically challenged person can enter and exit the vehicle, drive, and stow the wheelchair without any added assistance from anyone else.
Removable Seats
Some wheelchair vans come with removable seats in order to accommodate one or more wheelchairs. Some individuals prefer to drive the van while they are sitting in their wheelchair instead of transferring to the driver's seat and this can be accomplished by modifying the floor of the van and either removing the driver's seat altogether or installing removable seats, whatever the preference may be.
Sometimes, the person in the wheelchair is not the only one who drives the van and so some of the accommodations can be flexible so that they can be easily removed and reinstalled when needed.
Conclusion
Purchasing a wheelchair van or having one converted is a highly personal experience and there are various options to accommodate a variety of special needs. Because cost is almost always a concern, it may be tempting to purchase a wheelchair van from a private party who had previously used the van but before you do, it is crucial that you make sure that the components and conversions are a good fit.
For example, the floor could already have been lowered to accommodate someone of a different height and you may find that it never really fits you comfortably, which could also be a safety issue if you cannot easily reach the components you need to.
It is important to do sufficient research before you invest in a wheelchair van so that you will be familiar with all of the possibilities and options open to you. Once you are familiar with what is available, you will have a much easier time of making the crucial decisions as to which components you will need.