Wheelchair Vans With Rear Access Entry Explained
Wheelchair vans with rear access are incredibly popular due to their ability to facilitate easy loading and unloading–even in tightly crowded parking lots.   While parking can be difficult in some circumstances, it's generally fairly simple to manage with rear access vans.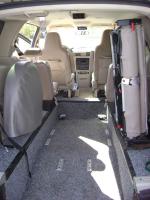 The fact that the chair is loaded and unloaded from the rear eliminates being forced to deal with cars parked on either side of the van–a problem that plagues side entry models.
They also receive high marks because they do not require much effort from a helping hand to load the wheelchair user into the van or to lift the chair into the van.
Rear access vans typically have a lift in them, located in or on the rear of the van, that folds down onto the ground as either a flat surface or a ramp.
For the most part, vans with rear access providing seating for the wheelchair user toward the back of the van because that the loading and unloading area is functionally separated from the rest of the vehicle due to the nature of the lift.
Rear Access Wheelchair Van Brands
All currently manufactured wheelchair vans must meet requirements and standards set forth by the Americans with Disabilities Act and automotive regulatory bodies before they can be sold to the public in the US.
Here are some of the more recognized brands of rear access wheelchair vans:
Dodge Caravan
Dodge Grand Caravan
Ford Freestar SE
Ford E350
Ford E250
Toyota Sienna LE
Honda Odyssey
Almost every vehicle manufacturer vans with rear access.   That means that wheelchair users have a wide variety of choices and an opportunity to buy from their preferred manufacturer.
Wheelchair Van Rear Access Problems
There are some problems associated with rear access wheelchair vans.   Loading and unloading from the rear of a vehicle isn't always practical, especially in extremely busy parking situations and in areas where parallel parking is predominant.   The way rear entry lifts are constructed and installed also commonly creates a situation where the wheelchair user is relegated to the rear of the vehicle at all times.   As you'd guess, that limitation doesn't site well with all users!