Spacious BraunAbility Dodge Grand Caravan Wheelchair Van
The Dodge Caravan minivan has been rolling down highways and through city streets since 1984, making it one of the longest continuously produced minivans in the United States. Today, buyers can still purchase this vehicle, rechristened the Dodge Grand Caravan. Not surprisingly, the Grand Caravan is a popular choice, too, for people interested in a wheelchair conversion van. That's because this vehicle boasts some of the roomiest interiors in the mobility van market. The Grand Caravan conversion is perfect for users who need to fit plenty of equipment, large wheelchairs or scooters and several people into one vehicle. The Grand Caravan seats seven. All that room is evident in the wheelchair conversion model. It's why the Dodge Grand Caravan conversion van remains a popular choice for wheelchair and scooter users who want to ride in comfort.
A Top Performer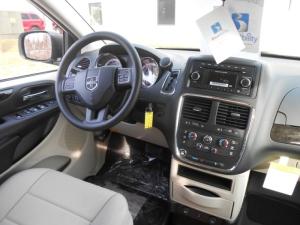 The Dodge Grand Caravan has always ranked as one of the most feature-packed vehicles in the minivan industry. The good news is that you'll enjoy most of these features, too, if you buy the wheelchair van version of the vehicle. This includes the Caravan's anti-lock brakes, 3.3 LV-6 engine and dual sliding doors. Depending on how much you are willing to spend, you can enjoy power sliding doors, power locks, rear heating and air conditioning, keyless entry and traction control. You'll also be able to drive your converted Dodge Grand Caravan with peace of mind. That's because the vehicle not only meets but exceeds all federally mandated crash-test safety standards. Safety is important in all vehicles, of course. But when you're driving a wheelchair accessible van, it's even more critical. You want to make sure your passengers are riding not only in comfort, but in absolute safety, too.
Abundant Comfort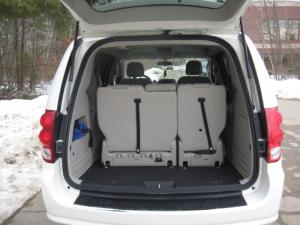 Of course, this isn't to say that the Grand Caravan conversion lacks in comfort. The Grand Caravan has always ranked as one of the largest minivans on the market. That remains the case with the converted version. Wheelchair or scooter users will enjoy the ample headroom and the vast amounts of interior floor space. Even with an extra-large wheelchair or scooter, there will still be plenty of room to maneuver around the Caravan's comfortable interiors.
Making the Conversion
BraunAbility, one of the bigger manufacturers in the country's mobility van business, has its own Dodge Grand Caravan conversion process. Odds are, if you purchase a Grand Caravan wheelchair conversion at a mobility dealer, you'll be purchasing one designed and modified by the workers at BraunAbility. BraunAbility starts the Entervan conversion by adding a 10-inch lowered floor to the Grand Caravan's inside. The company's workers then assemble and install a sturdy power ramp system. With just one touch of a button, then, owners can command the ramp to extend and lower to the ground, making it easy for wheelchair and scooter riders to get into and out of the converted Grand Caravan. Wheelchair users can simply roll into the van and park in one of several positions. This includes the driver's position, and is an amazingly simple process.
The Dodge Grand Caravan's interior floors are covered in new carpet and rubber center flooring to prevent slips and potential injury. Wheelchair tie-downs and anchor points are included with every conversion, while the Grand Caravan's typical rear suspension is replaced with multi-leaf springs that provide extra support.
The power wheelchair ramp features a non-slip surface. This makes it easier for caregivers to roll passengers into the van, and for wheelchair users to move themselves into and out of it with little effort. It also helps prevent any possible injuries. You'll find a huge variety of choices when you start shopping for a wheelchair conversion van today. But few offer the many options and safety features that you'll find in a Dodge Grand Caravan wheelchair van conversion. Yes, the Grand Caravan conversion is more expensive. But there is a reason why it's earned a reputation as one of the top conversion vans on the market.