Pontiac Montana the Right Wheelchair Van for You
Pontiac sold its Montana minivan from 1998 to 2006 in the United States, until it was discontinued because of slow sales. The Montana minivan was still sold in Canada and Mexico through 2009, but was scheduled to be canceled in 2010. That doesn't mean that the Pontiac minivan isn't an option for people looking for an affordable and functional wheelchair van, however.
Though it's been three years since the Pontiac Montana has been produced in the United States, consumers can still find converted versions for sale at mobility dealerships across the country. On the plus side, you'll be able to find Pontiac Montana wheelchair vans at affordable prices. That's because most, if not all, of the vans you find will be used. On the negative side, when you buy a used vehicle, you're never sure what problems you'll be getting. It all comes down to one question: Is the lower price worth the possible aggravation of frequent trips to the repair shop?
The Accessibility Factor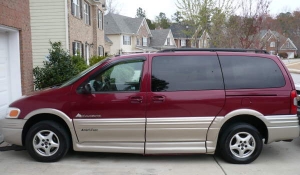 Like most wheelchair accessible vans, Pontiac Montana rampvans boast several features designed to allow wheelchair users to ride in comfort and safety. This includes a lowered floor so that wheelchair users will have plenty of headroom, wheelchair tie-downs so that the chairs will remain locked in place while you drive and plenty of interior room so that passengers won't ever feel cramped.
When buying a Pontiac Montana conversion, make sure to look for other accessibility features, too. For instance, you might search for a conversion that offers removable front seats. This allows wheelchair users to sit in the front of the vehicle without leaving their chairs. You might also look for wheelchair vans that come with non-stick flooring, which will prevent chairs from sliding. Finally, make sure the ramp that comes with your used Pontiac Montana wheelchair van is strong enough to hold not only the weight of a wheelchair or scooter, but the weight of the person who'll be riding in it. A surprising number of ramps are only built to handle the weight of the chairs or scooters themselves.
The Ramp Factor
Like most used conversion vans, the Pontiac Montana comes with several options. For instance, you may have to choose between an automatic or manual wheelchair ramp. Automatic ramps are usually far more convenient. These ramps extend from the vehicle with just the single press of a remote control's button. Owners need only press the button again to reverse this. Manual ramps require you to do the work. You'll have to lift and extend the ramp yourself. You'll have to decide if you're willing to do this. The main negative with an automatic ramp is its price tag. It's a more expensive accessory than is a manual ramp. Again, you'll have to determine what is more important, price or convenience and what needs your particular circumstances dictate.
Buyer Beware
A wheelchair conversion van isn't a small purchase. These vehicles are expensive. And they're important; you want everyone riding in it to be safe. That's why it's important to do your research before buying a Pontiac Montana conversion van. You don't want to get stuck with a van that'll be in the repair shop a month after you buy it. And you certainly don't want to drive a wheelchair van that's not road-safe.
Make sure that you get the opportunity to test drive your Montana wheelchair van before you buy it. Make sure, too, that you get the chance to have a mechanic whom you trust look it over before you finalize the purchase. A mechanic can warn you if you're purchasing a wheelchair van that's in need of serious repair.
Buying a used wheelchair van, such as the Pontiac Montana, is a good choice for many buyers. It's a far more affordable option, for one thing. But buying any used vehicle calls for significant research. This is especially true for one as important as a wheelchair accessible rampvan.