Top 5 Exterior Features for the Handicapped Driver
Exterior Features for the Handicapped Driver:   An Overview
When a new van rolls of the assembly line, it isn't really built with the disabled customer in mind.   Meanwhile, the number of people utilizing wheelchairs or who need other modifications to the traditional van design isn't large enough to justify specific product lines.
As such, handicapped van users find themselves reaching for a number of conversions that can make the vehicle meet their precise needs.   These modifications range from mounting a simple ramp to having the vehicle "chopped" to create additional headroom.
These are just a few of the exterior features for handicapped drivers:
Lifts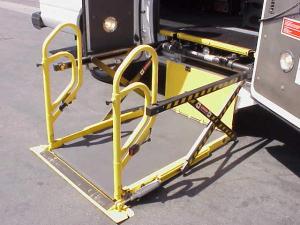 While some users will prefer ramps, the popularity of lifts is on the rise.   These are flat platforms that will raise or lower one's wheelchair to allow for easy entry and exit to and from the vehicle.   These lifts are usually powered and can be operated with a handheld control for additional convenience. Users appreciate the way they make accessibility more convenient and their impressive durability.   They can be side or rear-mounted.
Doors
Some handicapped drivers find it difficult to deal with the stock doors of many vans and minivans.   They prefer automatic powered doors.   That can involve anything from powering a single door and setting it up with a pushbutton control to the installation of remote-controlled dual sliding doors.
Headroom
In many cases, those who are in wheelchairs find themselves butting up against a problem–their vans' ceilings.   When you're seated in a wheelchair, your profile is higher and headroom can be an issue.   This is why many people have vans modified to increase space.   That can involve lifting the roof in a "hi roof top" conversion or lowering the floor in what is sometimes referred to as a "low roof top" adjustment.   This can be an involved and expensive process, but in many cases, it's the only way to convert a van into something a wheelchair user can comfortably use.
Ramps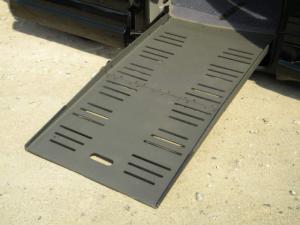 Some people swear by lifts, but others prefer ramps.   Some ramp options are portable and can be stored within vehicles.   Other, more durable options may actually be mounted to the van itself.   Some van users are installing "auto kneel" options that lower the van to allow for easier ramp use by reducing the required slope.
Reduced Effort Modifications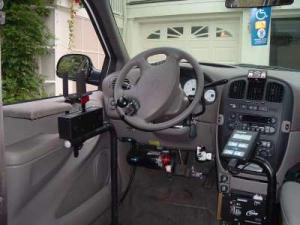 Some handicapped drivers find it impossible to steer or brake their vehicles safely using the stock equipment.   Conversion companies can change power steering and vacuum systems to create steering and braking options that require much less effort and that make driving easier for disabled drivers.   Those in need of reduced effort braking or steering should deal with professional, qualified providers with a solid record of accomplishment. The safety risks stemming from an error in installation are great enough to warrant that extra level of attention. In some cases, the installation of reduced effort options creates a legal obligation to install back-up systems.   A professional will understand the requirements and how to meet them.
These are only a smattering of the many potential exterior features for handicapped drivers.  This list mentions a few of the more popular conversions, but it's possible to make a number of other changes to improve the function and ease of use of a van or wheelchair.
The auto manufacturers may not be producing vehicles that work well for handicapped drivers, but the base units can be modified to for increased comfort, safety and effectiveness.