Wheelchair Accessible Vans World Of Choices
If you're shopping for a wheelchair accessible van, you've probably discovered one thing: You have a dizzying array of choices.
You'll find Honda Odyssey accessible minivans, Toyota Sienna rampvans and Chrysler Entervans. There are also several discontinued accessible minivans that you can buy used, including the Pontiac Montana, Buick Terraza and Plymouth Voyager accessible minivans. Each of these vehicles has its own positives and negatives to consider.
Handicap minivans that have been converted into rampvans are not inexpensive. They're a serious investment, and require serious thought.
In fact, there may be so many choices that you're feeling overwhelmed. After all, how do you determine which wheelchair accessible minivan is right for you? Do you look first at safety ratings or performance levels? Are aesthetics important, or do you consider a vehicle's looks to be of secondary importance at best?
And don't forget about all the accessibility questions you'll face. How many wheelchair users will regularly use your conversion van at a time? How tall are these people? How large are their wheelchairs or scooters? Do any of these passengers want to sit in the front seat? Do any of them want to actually drive the conversion van?
You'll need to consider all of these questions before you actually invest in a wheelchair accessible van. And you'll have to consider them carefully. Minivans that have been converted into rampvans are not inexpensive. They're a serious investment, and require serious thought.
Buying the right wheelchair minivan simply requires taking a close look at the lifestyle you and your family enjoy. By studying how you'll be using your wheelchair van, you'll be far more likely to purchase the right one.
Wheelchair Van Accessibility Options
There's one factor that's more important than any other when you are buying a wheelchair accessible minivan: the comfort and safety of your passengers.
You'll want a minivan, then, that boasts plenty of headroom for even the tallest of wheelchair users. And you'll want to make sure that the accessible minivan you buy features no-skid interior floors and roomy interiors.
Several wheelchair minivans being sold at mobility vehicle dealerships today boast plenty of room for both wheelchairs and their readers. These include the Dodge Grand Caravan wheelchair conversion van and the Honda Odyssey conversion. Other wheelchair accessible vans trade in some interior room for a sportier drive. For instance, the Scion xB rampvan looks exactly like a standard Scion, and handles just like one, too. It doesn't boast abundant interior space, but it has enough for one or two wheelchairs users to ride in comfort.
The quality of the ramp itself is also important. Not every ramp is created equal. Some used minivans may only come with manual ramps. This means that you'll have to extend, raise and lower the ramp yourself. Other, newer models come with automatic ramp systems. With these systems, you'll only have to press a single button to extend the wheelchair ramp and set it down on the pavement.
Newer models, including the Toyota Sienna and the Chevrolet Express wheelchair conversion vans come with "kneeling" capabilities. These vehicles, also at the touch of a remote-control's button, lower themselves to the pavement. This requires a much less severe ramp angle.
Top Wheelchair Van Models
Several newer models stand out from the pack in the accessible minivan market. These models boast more features, rank highest when it comes to safety standards and, generally, are better looking vehicles.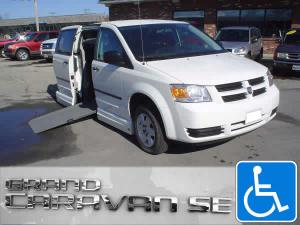 For instance, there's the Toyota Sienna rampvan, one of the more popular accessible minivans now on the market. Toyota teamed up with BraunAbility, a manufacturer of wheelchair lifts and accessible vans and minivans, to create a pair of Sienna rampvan models, the "infloor" and "foldout" ramp versions.
The Sienna rampvan is packed with special features. It comes with one of the tallest door openings in the industry. It also boasts an abundance of headroom. The minivan shines, too, when it comes to floor space, coming with the widest floor in the wheelchair conversion van market.
The Chrysler Entervan is another popular wheelchair conversion van. In fact, this particular van has been manufactured with the help of BraunAbility for more than two decades.
The Entervan looks like any other Chrysler minivan as it zips down the highway. That's because the Entervan is made of shiny metals and sophisticated trim. It's sleek and stylish.
Like other top wheelchair accessible vans, the Entervan comes with an auto-kneel feature. Whenever the vehicle's sliding door opens, the Entervan's rear suspension lowers until it's just inches above the ground. Once the vehicle reaches its final "kneeled" position, wheelchair users can enter the Entervan with ease, without having to negotiate a difficult incline. Even caregivers pushing manual wheelchairs will easily maneuver passengers into and out of the vehicle.
The Honda Odyssey wheelchair conversion, by VMI, has also been one of the top rampvans on the market. Wheelchair users can now enjoy the special features and standout road performance that Honda Odyssey owners have long appreciated.
Buyers who purchase a Honda Odyssey conversion will know, too, that they are working with engineers and designers who know exactly what wheelchair users need from an adapted minivan. That's because VMI has been creating Odyssey wheelchair conversions since 2006.
The engineers at VMI did not skimp on the Honda Odyssey wheelchair van. The conversion version of the Odyssey packs as much power and performance as does the traditional model. It also looks every bit as handsome as does the traditional Honda Odyssey.
Negotiating the many choices
While it may seem overwhelming to pore over so many varieties of wheelchair vans, shoppers should remember that this really is a positive.
The fact that there are so many choices means that manufacturers recognize the important of mobility services. Wheelchair users are a big market for the major carmakers today. This can only mean one thing: We'll continue to see new and improved wheelchair accessible minivans hitting the market year after year. That's good news for anyone who needs to purchase one of these mobility vehicles. A competitive industry results in solid deals and even better craftsmanship.