El Dorado National Amerivan Boasts Durability and High Performance
When you're shopping for a wheelchair van, you're looking for two things above all else: durability and performance. The El Dorado National Amerivan offers both.
El Dorado National is one of the top companies specializing in cutaway buses and mobility vans. The Amerivan is one of its most popular mobility options. It's not difficult to see why. The Amerivan is built to last, and is large enough to provide a comfortable ride for wheelchair and scooter users.
Safety, of course, is another priority for buyers of wheelchair vans. The Amerivan delivers here, too. The vehicle meets or exceeds all federal safety standards. Armed with this information, owners can drive it with confidence whether on short trips or that cross-country vacation.
Many Features
The engineers at El Dorado National have built in plenty of features to make their Amerivan a truly accessible vehicle. For instance, the Amerivan boasts a quick-release removable front passenger seat, an optional fold-down middle seat and a spacious rear seating area. All of this combines to make sure that the Amerivan can hold several passengers at once.
Even with extra-large wheelchairs and scooters, the Amerivan should have more than enough room to accommodate the vast majority of users.
The Amerivan is also one of the safest wheelchair accessible vans on the market, in part because its trademarked tie-down belt system, which keeps wheelchairs and scooters safely in place while you're driving the vehicle.
This tie-down belt system, made by Q'Straint, has earned a reputation as the safest in the industry. Your chairs or scooters won't so much as budge even when you accidentally take sharp turns.
The Amerivan shines, too, when it comes to storage space. The van's extra layers of cargo space mean that it's easy to store wheelchairs, scooters and any extra equipment that comes with them and still enjoy plenty of room. It's one of the reasons why the Amerivan has been recognized as one of the most comfortable wheelchair vans currently for sale.
Safety Matters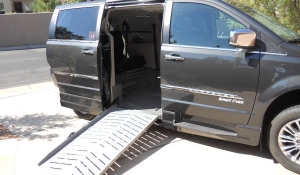 It's nice to have all these features. But safety is even more important. The ElDorado National Amerivan is a pioneer here, too.
First, the vehicle offers an extremely sturdy manual fold-out ramp that boasts a simple swing-out gate feature. This feature guarantees that the Amerivan's passengers are able to access its interiors quickly and easily, with less chance of injury along the way.
The Amerivan's interiors feature a commercial-grade non-slip flooring material made out of skid-resistant durable vinyl. Again, this significantly lessens the chance of injury among passengers.
Once it's on the road, the Amerivan again ranks near the top when it comes to safety standards. The van has been crash-tested, and the results of these tests state that the van meets or exceeds all U.S. and Canadian motor-vehicle safety standards.
Made to last
No one wants to purchase a wheelchair van only to have to take into the shop one year later for expensive repairs. When you buy an Amerivan, the odds are good that this won't happen to you. That's because El Dorado National builds its Amerivan wheelchair vans with one principle in mind: It should be reliable and durable.
For proof of this, you only need to look at the Amerivan's essential systems. The vehicle's air-conditioning, heating and braking lines, for example, are built with tough stainless steel.
The Amerivan is so durable, its manufacturers have added a three-year, 36,000-mile warranty. In case your Amerivan does experience costly problems in its first few years, then, you'll be able to have them repaired without spending any money from your own pockets.
The technology behind wheelchair accessible vans has progressed significantly during the last five years. Rampvans are safer, more reliable and more attractive. They boast fetter fuel efficiency ratings, and they perform bettering crash-safety tests. In short, the wheelchair vans being produced today are top-of-the-line models. The Amerivan is proof of this. It's a vehicle that you can buy with confidence.