Go with the Affordability of a Used Ford Windstar Wheelchair Van
Certain car manufacturers have earned a reputation for reliability and durability. Ford is one of them. Ford has earned a strong reputation for producing vehicles of all types, from industrial workhorses to sleek sports cars.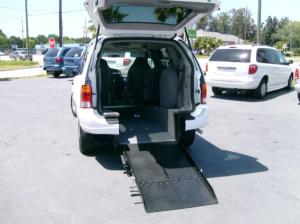 When it comes to vans, they maintain their reputation.   They're known for producing . vehicles that require little maintenance, perform well and can handle adverse weather conditions. Ford Windstar models are particularly popular among buyers searching for wheelchair vans. That's because the Windstar earns high rankings from both consumers and members of the auto press. The car is reasonably priced, reliable and meets high safety standards. At the same time, it's an attractive vehicle, one that is sleek and stylish. It makes sense, then, that wheelchair users would turn to the Windstar, and that so many mobility van dealerships across the United States would stock them.
The Right Model for You
Before buying a converted Ford Windstar, you should make sure that you're purchasing the model that's right for you and your family. Not all wheelchair vans are created equal. Some vans have extra features that you may not want, but that will cost you a great deal.   Others will be too basic and won't boast enough amenities to provide you with a comfortable ride. Before you worry about the extras you'll want to first consider the more important fundamentals. For instance, what kind of mobility ramp do you want for your converted Ford Windstar? You can choose from Windstars that come equipped with side door ramps or those that come with rear door versions.
Deciding which version works best for you requires that you take a long look at your own family and lifestyle. For instance, some ramps are extremely lightweight. This is good if you're a caregiver. You can then easily fold them up and store them. However, you must make sure that your ramp, even if it is lightweight, can support enough weight for the wheelchair or scooter user that will be riding in the converted Windstar. Some ramps are designed only to hold the weight of an empty wheelchair. Others, more durable, can hold occupied wheelchairs or scooters.
The Right Price Point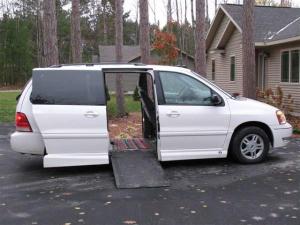 Budget it another key consideration. Certain van ramps cost more than do others. Generally, ramps that can handle higher weights are costlier than those that can't. As with many things in life, the more you pay, generally the better ramp you'll be buying. Don't forget, too, to consider whether you need an automatic ramp or if a manual one is adequate. Manual ramps will be less expensive. But they're more work. Automatic ramps require just the press of a button to fold out or withdraw. Manual ramps, of course, require a bit of muscle. If you're a caregiver, you'll have to determine if the lower cost of manual ramps outweigh the additional work they require. Once you've selected the best ramp type, it's time to consider other features of your wheelchair van. Are the front seats easy to remove and replace? This is important for wheelchair users who want to ride upfront or who'd like to drive.
It's also important, again, for the caregivers who'll be doing most of the moving. No one wants to lug heavy seats back and forth if they don't have to. Check to make sure that the Ford Windstar wheelchair van that interests you boasts enough floor room. This is an issue of comfort. The more space the better, especially for riders in wheelchairs. It can get awfully crowded if floor space is limited. Many wheelchair vans also include lower floors. This allows wheelchair users to still enjoy the scenery while sitting in their chairs. It also provides them with enough headroom so that their ride isn't overly uncomfortable.
The market for wheelchair vans is busy, but some models manage stand out in the crowd. The Ford Windstar wheelchair van is one of them. These vans combine the reliability and experience of Ford with the quality and comfort of higher-end vehicles that are usually far more expensive. You may have to search to find an available Windstar conversion. But the effort will be worth it.